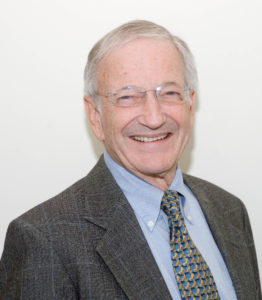 Medical Director, Discovery Eye Foundation
For more than 30 years, Dr. Anthony B. Nesburn has served as the medical director of the Discovery Eye Foundation. An internationally respected eye surgeon, educator, lecturer and researcher, Dr. Nesburn served as the director of ophthalmology research at Cedars-Sinai Medical Center for 17 years. He is now an adjunct professor and vice chair for research at UC Irvine, Department of Ophthalmology.
Dr. Nesburn has played a key role in expanding the research faculty and program at the Gavin Herbert Eye Institute, UC Irvine School of Medicine . He has also been instrumental in organizing the department's international, multi-institutional Stem Cell and Retinal Regeneration Research Program.
A Los Angeles native and UCLA magna cum laude graduate, Dr. Nesburn earned a cum laude medical degree from Harvard Medical School and received his extensive post-graduate research and ophthalmology training at Harvard. After returning to Southern California, he joined his father, Dr. Henry Nesburn, in half time private practice of ophthalmology, spending the other half of his time performing medical research.
Dr. Nesburn is involved in patient-oriented laboratory research as well as clinical research projects. He has been awarded substantial NIH research support throughout the years that has resulted in many important sight-saving scientific and clinical advances. Dr. Nesburn was one of the pioneer researchers in the development of the current class of prescription anti-herpes medications on todays market. He has been published in more than 180 peer-reviewed scientific journals.
Highly respected by his peers, Dr. Nesburn is repeatedly included in Town & Country, magazine's Outstanding Medical Specialists in the U.S., Best Doctors, Inc., the Best Doctors in America, and Los Angeles magazine's Best Doctors in Los Angeles.
In 1998, Dr. Nesburn was appointed by the Secretary of Health & Human Services to serve a four-year term on the National Institutes of Health's (NIH) National Advisory Eye Council, a prestigious panel of leading vision research scientists that advises the National Eye Institute.
Currently, Dr. Nesburn is in research to combat recurrent herpes infection. Specifically, he and his team are developing a vaccine to prevent ocular and genital herpes. His clinical areas of expertise are diseases of the cornea, clinical trials, corneal transplantation and laser refractive surgery where he was involved in pioneering studies of laser vision correction
The Discovery Eye Foundation
Anthony B. Nesburn, MD, FACS is the Medical Director of The Discovery Eye Foundation: a non-profit organization based in Los Angeles.