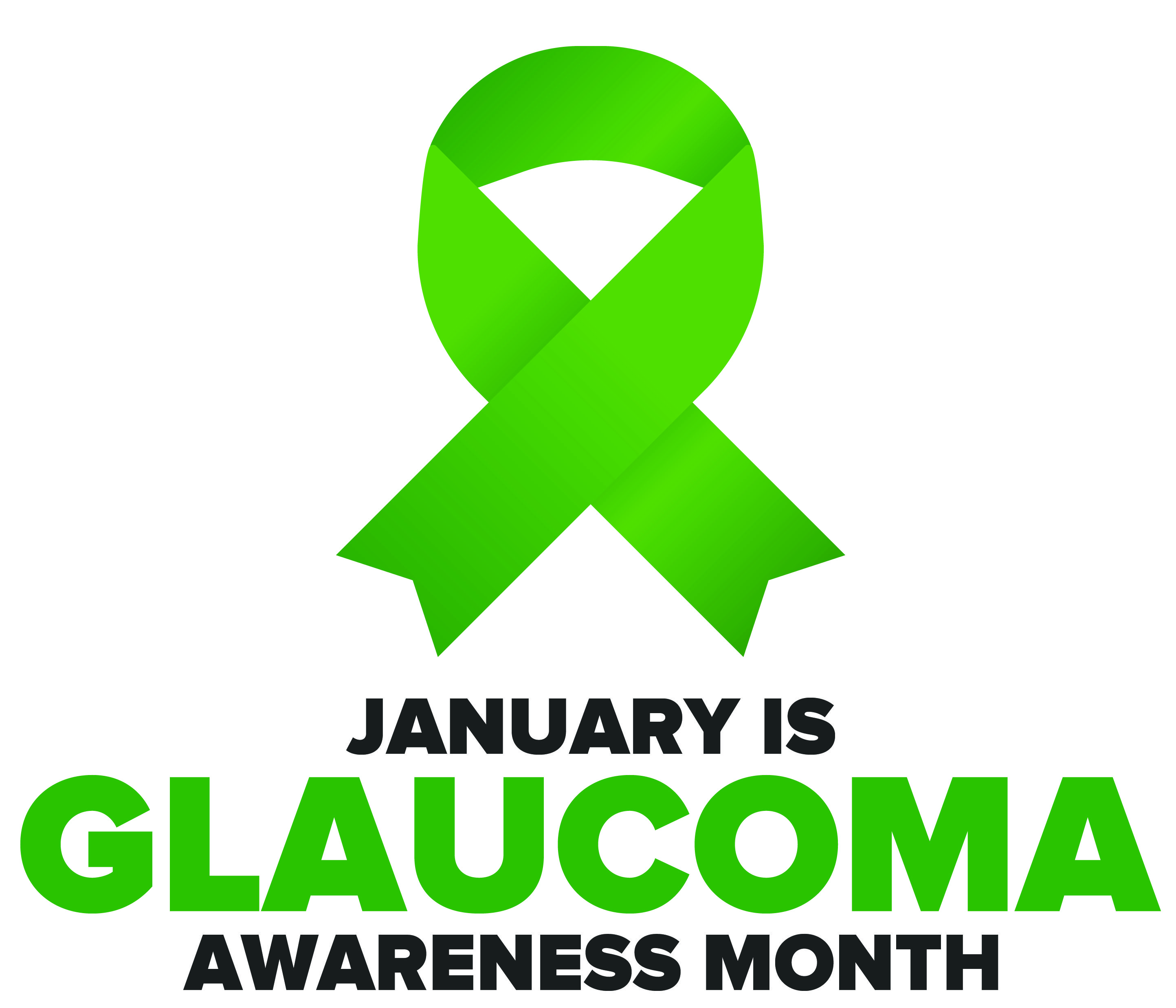 National Glaucoma Awareness Month reminds all of us to get regular eye exams and show support for those suffering from this condition. Glaucoma is one of the leading causes of vision loss and blindness. Glaucoma is often called "the sneak thief of sight" because glaucoma has few symptoms or warning signs in its early stages. It can be diagnosed only by a full eye exam by an eye care practitioner.
Glaucoma is a disease where pressure builds up and damages the eye's optic nerve. Types of this disease include the common Primary Open Angle Glaucoma, which causes peripheral eyesight to slowly diminish and is age-related. Angle Closure Glaucoma, where the fluid drainage system is narrow and closed so that the aqueous fluid remains in the front chamber of the eye and intraocular pressure rises; and Low Tension Glaucoma, where the optic nerve becomes damaged in spite of the intraocular pressures being within the normal range. There's currently no way to restore vision lost from glaucoma because once the nerve cells become damaged, they do not regenerate.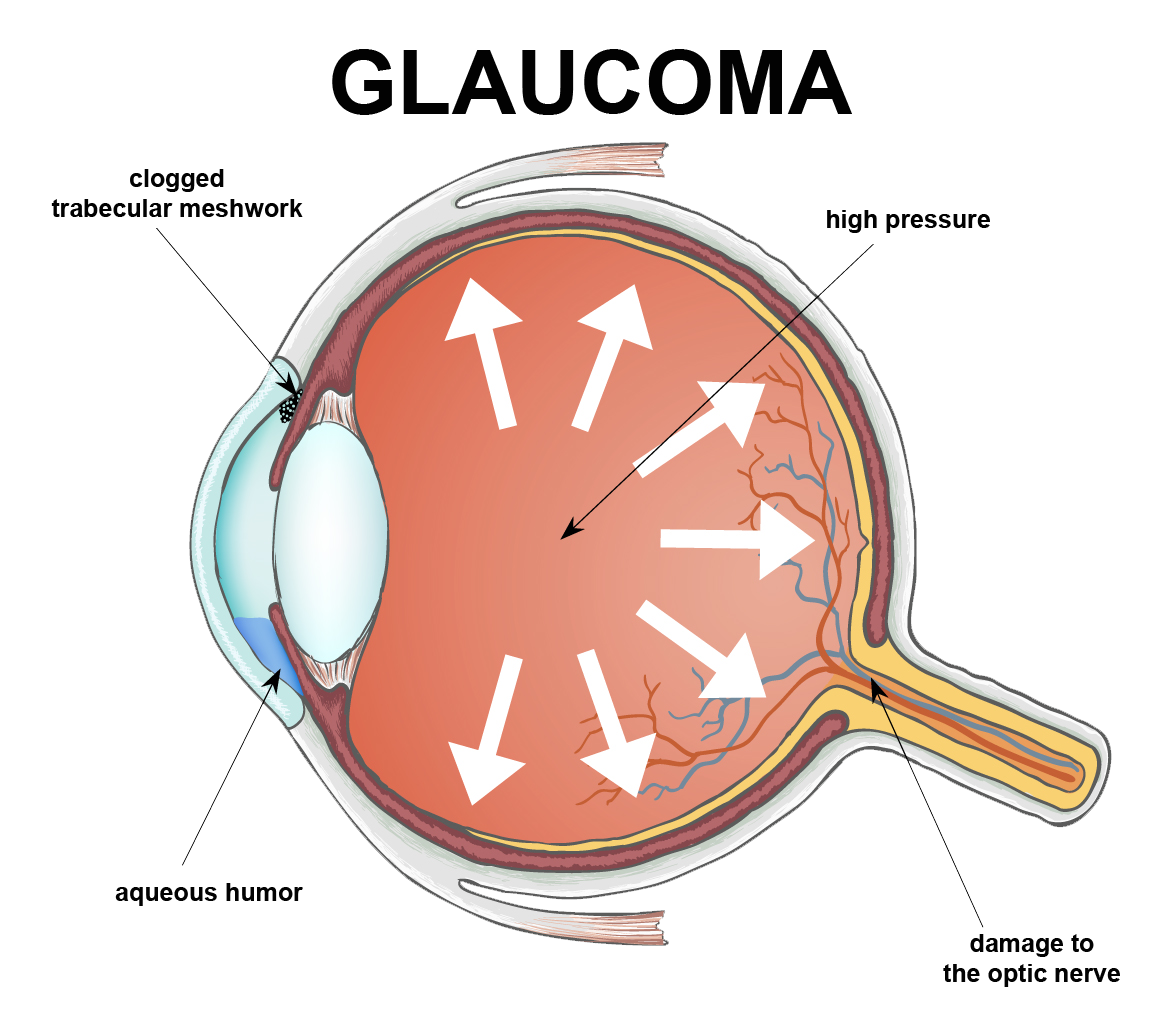 A few important facts you should know about Glaucoma in adults:
More patients than ever are affected – Over 3 million people in the U.S. have glaucoma, and the number is rising.
Glaucoma can affect people of all ages – The most common form of glaucoma, Primary Open Angle Glaucoma, becomes more prevalent with increasing age. However, glaucoma can strike anyone, even

infants and children but it is rare.
Demographics do play a role – Glaucoma is a leading cause of blindness among African Americans; it's also highly prevalent in Hispanics over the age 65.
Is glaucoma hereditary? The risk of developing Primary Open–Angle Glaucoma is up to nine times more likely if parents or siblings have the disease.
Hope for future glaucoma patients –

Although there is no cure for any form of glaucoma, early diagnosis and treatment help control the disease and slow the process of vision loss or blindness.
Newer Glaucoma Treatments
Glaucoma treatment usually begins with the use of topical (eye drop) medications which lower the intraocular pressure. Within the past two years, two new topical medications have been approved for the treatment of glaucoma: VYZULTA® and Rhopressa®. VYZULTA® is a modification of a class of medications currently used to treat glaucoma – the prostaglandin analogs. This drug helps lower intraocular pressure by increasing the drainage of fluid (aqueous humor) from the eye.
Rhopressa® is part of a new class of drugs used to treat glaucoma called Rho kinase inhibitors. Rhopressa®, like VYZULTA®, also lowers intraocular pressure by increasing aqueous outflow. Both Rhopressa® and VYZULTA® are dosed once daily and pose few, if any, systemic safety concerns.

Laser
Using a laser to make a small opening in the iris to help with fluid drainage usually cures Angle-Closure Glaucoma. This procedure is called a laser peripheral iridotomy.
For Primary Open Angel Glaucoma, when eye drops are not enough to reduce the pressure then a procedure called Selective Laser Trabeculoplasty (SLT) can be used. The SLT reduces intraocular pressure by stimulating increased outflow of fluid from the eye. SLT offers an improved safety profile compared to older glaucoma laser therapies and may lower eye pressure by as much as 20 to 30 percent. It is typically used as the next step in patients whose glaucoma is uncontrolled on medical therapy. Because of its excellent benefit-to-risk profile, however, SLT can sometimes be used in place of medications, especially in patients who have difficulty with their eye drops.

Surgery
When other treatments fail, there are many surgical therapies to lower the eye pressure. These surgical approaches, which are riskier than medical therapy or lasers, are usually employed when non-surgical means do not work well enough to stop vision loss.

MIGS
The goal of Minimally Invasive Glaucoma Surgery (MIGS) is to reduce intraocular pressure by enhancing the eye's own internal aqueous humor drainage system. Some MIGS can be performed as stand-alone procedures, while others are typically done along with cataract surgery in patients with visually significant cataracts and mild to moderate glaucoma.
There are now a variety of recently FDA approved MIGS available for use in this country. MIGS typically are performed through a small incision in the eye with minimal tissue trauma and offer a favorable safety profile as well as more rapid visual recovery than traditional glaucoma surgery. There are many well qualified glaucoma specialists that perform the MIGS procedure.
Glaucoma Treatment Overview


National Glaucoma Awareness Month reminds all of us to get regular eye exams. Don't let glaucoma steal your sight! The best way to protect your sight is to get an annual comprehensive eye examination.
---
Thanks to funding from private philanthropists, DEF's research continues to make great strides toward cures and treatment for glaucoma. If you would like to support DEF's sight saving research please donate today!