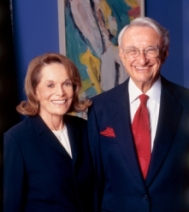 Married for 61 years, until Morris? death in 2002, the Pynoos' worked as a collaborative team with their visions constantly becoming reality.
A civil engineer by training, Morris Pynoos was credited with designing the first prototype for the nail gun to help Howard Hughes make the Spruce Goose. He built the historic One Wilshire building and created the glass walled art center celebrating ?60 Years of Living Architecture? located in Barnsdall Park.
Rita Pynoos is an accomplished weaver and designer of unique acrylic furniture. For many years she has served as a Commissioner of the Smithsonian American Art Museum. She is founding member of Women in Philanthropy.
Rita Pynoos has continued as a steadfast supporter of DEF and currently serves on the DEF Board of Directors, along with her son Jon.